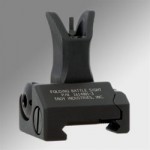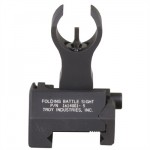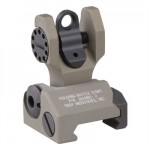 If you are in the market for reliable and easy to install accessories for you AR 15, I've got a winner for you. I have ran a handful of Back Up Iron Sights (BUIS) on my AR 15′s. PRI, A.R.M.S., and Troy have always been industry leaders in my opinion. It's not because they are the cheapest or the most heavily marketed, they are made to be 100% reliable, durable, and retain zero. Troy Industries Folding Battle sights are made to flip up with no assistance and to flip down by depressing a small button on the side of the sight. They are held in place by two 1000 pound force detent balls. These sights are not folding down unless you tell them to. These sights are proven over and over again to retain actual zero and also made to co-witness through electronic optics. This means, if your batteries fail or your EOTech just stops working, you can still have an accurate sight picture. They have several options available as well. You can get an HK style front sight, you can also order sights that are imbedded with tritium as well.
Troy Industries Front and Rear Micro BattleSight Combo – Black
Troy Industries Micro HK Style Front and Rear Folding Battle Sight
Let's review why these are a must have:
co-witness
100 percent retention of zero
hard coat anodized and impregnated with teflon
will not flip down
operator proven
---
Andrew M. says:
December 5, 2010 at 11:05 am
I totally agree with you on the Troy Industries flip up sights. These are my far the best that ive seen and are what I currently have on my AR-15. Sometimes when you pick stuff up, you can tell if it is constructed well. You definetly get this feeling when using these sights. I feel that these sights could easily take some good ol' Marine Corps abuse. That says alot about these sights. The only other rear sight I would consider would be the Matech flip up rear sight. The Matech allows you to adjust your elevation out to 600 meters. However the Matech does not have the O-2 sight for night and CQB. But, at the end of the day I would still choose the Troy Industries. It is by far the most well rounded, durable, reliable sight on the market. Great review Jim! Keep it up!
---