What is the best AK 47 stock configuration?
This question is best answered by determining your application. There is no real wrong answer, just a load of options when it comes to upgrading your AK 47 with a new stock. I have tried a half dozen or so AK 47 stocks and here are several ideas for you to consider. I didn't write the book, but I have had a tiny bit of experience. If your application is military or "contractor" then you are obviously looking for light-weight, rugged, and reliable. If all you are doing is building a fun shooter for the range and the back 40, then you are looking for inexpensive and reliable. Here are a few of my favorites based on application.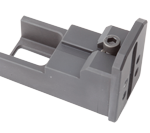 First on the list are upgrades for the Operators. Typical aftermarket AK 47 stocks are a little less on the rugged and reliable side. The best option for upgrading a stamped receiver AK to an "operator friendly" assault rifle is to upgrade the trunion. On a stamped receiver AK 47 (Romanian WASR 10, etc…) the trunion is the portion of the stock that fits inside of the receiver and screws into place. VLTOR and ACE make a handful of great stock adapters for the AK 47 and variants. By upgrading with an adapter, you allow yourself the use of every one of your favorite AR 15 adjustable stocks. Both companies provide battle proven equipment.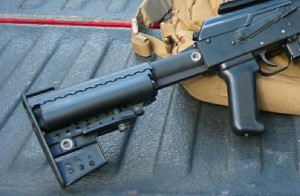 VLTOR makes the "AK47/AKM/AKS Stock Adapter and Extension". It is designed for a fixed 5-6 position AR 15 stock to mount on your AK 47. Extremely reliable manufacturer. It will run you about 90 bucks.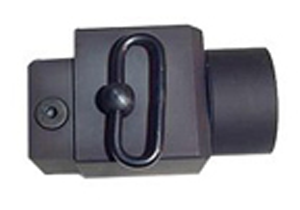 ACE Ltd makes the "AK Univeral Receiver Block with CAR Stock Adapter". This adapter allows for an ultra snug and reliable fit. It makes your AK 47 compatible with just about any AR 15 or M 16 after market stock. ACE is an extremely reliable manufacturer of aftermarket parts for Assault Rifles. This adapter will run you around 60 dollars.
By using either of the above listed AK 47 stock adapters, you are able to breath a new "modular" life into your AK 47. You will also be secure in knowing that you are outfitting your Assault Rifle with a reliable stock modification that will stay secure when shit hits the fan. There is a reason a lot of operators in the sandbox are using AK's and variants in their missions. US trained riflemen are far above the grade, and when you put a snug fitting reliable AK in their hands, they have one hard-hitting machine.
Now for the "weekend warriors" and "paper assassins". You have several options when choosing a fairly reliable and inexpensive stock upgrade for your AK 47. The list goes on: Tapco, UTG, MAKO, etc… For the weekend warrior just wanting to build a fun AK 47 to shoot, these manufacturers are just fine. I don't recommend taking any of them to the battlefield, but I assume you will gather that once seeing the price tags.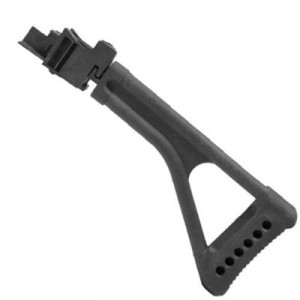 First up is my personal favorite budget AK 47 stock. The standard side folding stock by Tapco. It is available in Black, Desert, and OD Green. This little gem is priced at around $35.00 dollars and is worth every penny. Mounts up in no time and stays secure for the life of the gun. It's super light-weight, reliable, and has a foolproof folding mechanism. Make sure to check one out for yourself. TAPCO Folding AK 47 Stock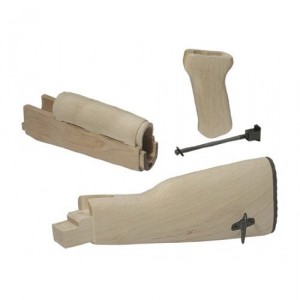 Next is the Timbersmith Unfinished Wood AK 47 stock set. I believe Timbersmith is a venture of TAPCO. If you like the feel of a wood stock or just want to customize a wood stock set, this is where Timbersmith has you covered. The kit comes complete with upper and lower forends, pistol grip, and stock. You are able to custom finish this birch wood set in any color or stain configuration imaginable. Also, they are made in the U.S.A., so they count as 3 compliance parts. The whole set will only set you back 110 dollars. Take a look here, Timbersmith AK 47 Stock Set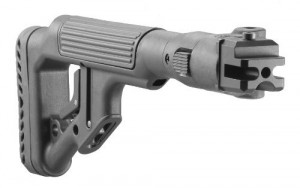 MAKO is a newer company that just started making a really cool stock for the AK 47. It's the Tactical Folding Buttstock with Adjustable Cheek piece. This thing is neat and won't burn a hole in your wallet for what it is. The stock weighs in at around 1 lb and is extremely versatile for a small price tag of 120 bucks. This is an ambidextrous folder for the AK, meaning it can fold to the left or the right. It also has an adjustable cheek riser if you are using aftermarket optics, or if you just like a high cheek weld. I believe this particular stock is MAKO's way of showing they are ready to compete with the big boys. It is composed of a Mil-Spec Polymer and features a super snug rubber butt pad. It is intended for use with the Stamped Receiver. Make sure to give this one a look before purchasing a folder for your AK 47. MAKO Tactical Folding Buttstock
If you have a favorite AK 47 stock configuration please feel free to comment. All insight is greatly appreciated. – Jim, GunModReview.com
---
SIMON CHAMPION says:
December 7, 2011 at 9:49 am
Do you ship to Britain , if so please tell u how much I want one black tapco stock,folding,thanks.
---
GunModReview says:
December 7, 2011 at 11:47 am
Hi, I actually don't sell the parts my self. I do however link to where you can purchase them. I would check it out on Amazon.com and see what shipping would be. You should probably check applicable laws in your country as far as importing firearm parts that aren't domestic. Thanks for visiting, have a great day.
---
Mark B says:
December 31, 2011 at 12:56 am
Another option, and I'd like your opinion on it's durability, is this one:
http://www.dsarms.com/M16_AR15-to-AK47-Buttstock-Adapter—-MSISTKAD/productinfo/MSISTKAD/
Yea, it's polymer, but the small distance between the AR stock mount and the AK receiver should help to reduce the torque pressures that this adapter will have to absorb. Plus it should help to keep things "tight"..
---
GunModReview says:
March 8, 2012 at 7:22 pm
Hey Mark, sorry for the delayed reply. There are some parts on a rifle that I feel are okay to be polymer, but to me the joining piece between the weapon and the stock being plastic raises some concerns. If you are just using it for a tacticool target rifle, fine. If you are operating the weapon in Wartime or Law Enforcement scenarios, I would say to keep it metal.
---
Ryan says:
February 22, 2013 at 1:18 am
I have a Centurion 39, which has a milled receiver, but I really want that Mako folding stock for my rifle. What must I do to my rifle in order for the Mako folding stock to be compatible?
---
Bill from Boomhower, Texas says:
April 23, 2013 at 12:51 pm
Hey guys, I know nothing about AKs, but bought a ZASTAVA PAP M-70, back in October. I really wish you could put a bayonet on it, and I think the Maple looks hidious. I decided to buy the plastic MAKO tactical stock and forearm, plus the hollow MAKO pistol grip for it, but was very disappointed to learn that the pistol grip was all that would fit. There wasn't even any distant similarities in the parts, so I had to re-assemble it with yellow wood. My stamped reciever takes one bolt through the stock, via the hole behind the recoil pad, like a shotgun. I've been told there is an adapter I can buy to go between stock and reciever to allow use of AR type stocks, which I'd like to know more about. But as a couple of you have mentioned, I don't want any more plastic than needed, which might weaken the gun under use.
And, that still doesn't address the forearm issue. I thought the MAKO route would allow me a couple of stash places for CR-123 batteries, rail mounting points, and uniform diaginal ventilation lines on the parts, incorporating style, all in one modification.
I'm still open to modifying the gun, if anyone knows which model I have, and which parts I should be asking for, or where to find them, I would appreciate an e-mail at: boomhowertx@hotmail.com. Thanks.
---
GunModReview says:
April 24, 2013 at 7:36 am
Hi Bill. I spent last night and this morning researching this for you. I have yet to come up with an easy way to just convert rear trunion with an adapter. I did however find a guy that did a conversion from a Yugo M70 stock adapter. I will email you the link and I hope that helps. If you are wanting a better platform to build from, you may try selling or trading the PAP for a different variation e.g. WASR, M70, etc… Sorry I couldn't be of more help. Have a great day, and thanks for checking out the site. – Jim
---
Bill from Boomhower, Texas says:
May 2, 2013 at 9:20 pm
Oh, thanks, Jim. No, I had some feed/eject issues at first, and some of the extra mags I'd bought wouldn't even fit into the gun without beating them in, and then the bolt would drag heavily on them. It was awful, and I was sick. Then, a friend offered that he could probably fix it, so I let him keep it and all the mags, and a double handfull of ammo for a few weeks. He wouldn't take any money, but I layed $60 on his table when I left, and it now runs like a sewing machine with all those mags. No issues. I felt like I should have given him more, as it probably would've cost more from Anybody Guns & Accesories across town. No, I'm really happy with the operation now, and this model is supposed to be a good, well made AK. I knew nothing whatsoever about AKs, and never thought I'd ever have any kind of so-called "assault rifle", but just before the upcoming "Re-Election" I figured I'd better go for it, and a gun show was in town that weekend, so I went in, by myself, and covered the whole show in less than two hours, looking only for a good AK, asking questions of the three or four seelers there who offered them. Only one had them new in a box, with two magazines. Some consumers on my side of the tables heard me, and offered their advice. After seeing it all, I went back to the dealer who had several in the boxes, each with two mags for $650 I think it was, and plunked down a credit card. Luck of the draw? I don't know, the yellow Maple starts to grow on you, after handling it alot with dirty hands, I just wish it would more readily accept accessories. Ther IS actually supposed to be an adaptor available for my gun out there, with the wedged end, and a single bolt running thru. Please keep my e-mail handy, just in case you do run across one in your travels, as I'd still like that option. My top half of my fore end is gonna be another story, trying to match up, I'm afraid. Thanks again Jim.
---