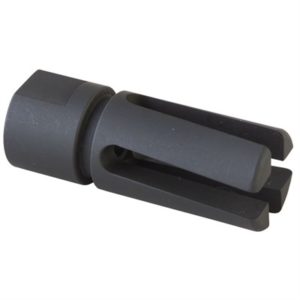 For a long time now my favorite flash hider for an AK-47, AR-15, or FAL has been the vortex style suppressor. I'm not sure exactly what it is about the design. It almost looks too simple. For some reason or another, the vortex style flash suppressor dissipates the hot gasses from your barrel faster than the rest. With the angular cuts from this suppressor, the gas exits the muzzle in the same manner it is traveling through the barrel. This allows it to quickly dissipate gasses without disrupting the spin of the bullet. Keeping that in mind, this is also going to give you better accuracy. This is an awesome accessory for any rifle! The Vortex Flash Suppressor made my Smith Enterprise is machined from the same stock AR-15 Bolts are made from. It is an extremely durable item.
UPDATE since original post: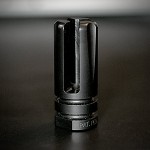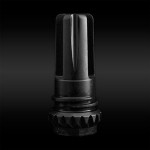 I have been turned onto a new Flash Suppressor made for the AR 15 and AK 47 families. It is the AAC Blackout by Advanced Armament Corp. They make one of the best new flash suppressors on the market for your AR 15, AK 47, or 7.62 Nato variants. This thing has a TINY flash signature even through Infrared. You are going to pay about 25-35 dollars depending on rifle, but I think it is money well spent. Check it out HERE!
AAC BLACKOUT FH 5.56MM NSM 1/2X28
---
GunModReview says:
November 26, 2010 at 9:26 am
I will definitely be posting more about the AR-15. Give the site time, its only a month old and its a part time hobby as of now. The more traffic I gain, and the more I see interest in the articles, the more I will know what people would like to read about. Thanks for the comment and tricky with the link in your name LOL. Troll
---
Issac Maez says:
November 26, 2010 at 10:07 am
I must say, I have relied more on my Mini14 lately than any other weapon. With something that reliable it's tough to try another.
---