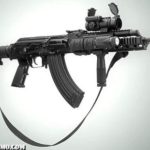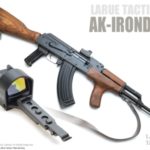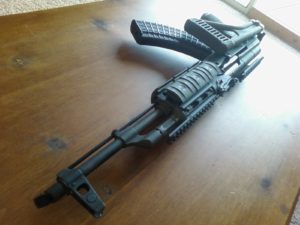 One of my first AK-47 builds was a Romanian WASR-10.  I had no idea at the time what the difference between a "stamped" and a "milled" reciever was.   I later found out that the real difference was a WASH.  I now have fired both stamped and milled rifles and truly cannot pick out the difference.  For a new guy coming into the AK-47 game I was excited about all the modifications that could be made.  I also learned after I mounted my UTG quad-rail forend what "co-witnessing" was.  This makes a huge difference when purchasing an optics mount.  Co-witnessing is the alternative when your red-dot's battery runs out.  In layman's terms, it means when your red-dot breaks you can still acquire a target and maintain accuracy with your stock Iron sights.  If you are really wanting to make a pracitcal rifle, I recommend going with either a LaRue Tactical mount or an UltiMAK mount.  You are going to spend a few extra dollars, but you are going to get a lighter rifle and be able to Co-witness your sights.  If anyone has any other ideas on this, please feel free to post your set up.  : ) Reviewer
Here is the Forend on my AK-47 in the larger pictures. Its definately not junk. Try it out for yourself.
UTG Tactical 478 AK-47 Quad Rail System
---
Matt says:
November 4, 2010 at 4:18 pm
It does everything an AR-15 forend does, except fit an AR. Seriously, people these days have found every way to put AR parts on an AK that can be imagined and by the time it's done, they could have just bought and outfitted an AR. My opinion, love your AK for what it is. A durable, always goes boom weapon that will fire under the worst of conditions. If you want a tactical weapon, build on a tactical platform. Outfitting an AK with fancy aftermarket parts is like putting spinners on a rat rod.
---
JimEilers says:
November 5, 2010 at 10:07 am
I totally agree with everything you just said, but it is a little nicer than putting spinners on a Rat Rod. I will say though, if I had to be out on a jungle trail for months at a time in Vietnam, I would've much rather carried an AK-47. The Somami's in Mogadeshu were cleaning their AK-47′s with Old motor oil and frayed boot laces, and every time they pulled the trigger it went boom. If I was in a situation where I returned to a home base every night and had the comfort of deep cleaning my weapon everynight before bed, I would much rather carry a M-16/AR-15. Tactical weapon goes to the AR-15. "Oh shit, I need something to be bug out with" goes to AK-47 lol. Props to your post my friend.
---
Steve Cook says:
April 3, 2011 at 10:43 am
I'll tell you what
I got a converted Saiga AK74 in 5.45
I bought it because at the time 5.45 was half the price 5.56
I fell in love with this gun, I got 500 dollars into it total
My buddy built a tactical AR at the same time using quality stuff… 1300 bucks
The AK74 is just as accurate, costs less to shoot,.
We are able to shoot and hunt a few minutes from our house and have put a couple thousand rounds through our weapons already.
I can't tell you how many times his day ended with jammed up stuck case or something. I have yet to clean my AK except to spray it down with Rem oil every 500 rounds or so… not even ONE misfire so far LOL
The only benefit I see with his AR is that it is a little lighter and we lug our guns three or four hours at time, I wish the AK was a pound lighter
I really don't put any tactical mall ninja stuff on the AK but I do have a beryl rail to mount my optics
I'd go AK74 all day long over AR15
---
GunModReview says:
April 3, 2011 at 11:13 am
Great information here Steve. I appreciate the interesting information in your comment. Please feel free to comment on any post you would like. There is nothing better than a fine Saiga conversion. I've been really happy with the new show in Discovery Channel called "Song of Guns". It's obviously scripted as hell, but I enjoy seeing them show the fine points of both the AR and AK. The owner of the shop seems to have a personal affection toward Saiga's as well. Happy Hunting, Jim
---
Josh says:
June 1, 2011 at 4:20 pm
I'm about to purchase my first saiga 5.56 and first impressions of it are awesome. I was surprised as hell to see a good fit and finish on a 350$ gun. Now the stock is a down side but it's still functional and doesn't look bad IMHO (I'm not a purist,it's not a relic so it's not a "hate crime" to modify it)
Anyway I actually run combat drills with a few of my friends and IMHO I needed a forend rail system and a way to mount optics so I purchased a TWS hinged receiver cover/beryl mount and a Midwest quad rail,removed the stock front sight and installed a set of magpul flip up BUIS (the Midwest and TWS rails are identical height making it a very nice sudo monolithic rail) and an eotech holo sight, a folding fore grip,kreb enhanced safety,and a left handed charging handle (makes quick reloads even quicker,as the dominant hand never leaves the grip and your eyes stay on target) Now some may call this a butcher job or an m4gery but it's comfortable,easy to use, FAR more ergonomic and is dead nuts reliable and will still "go boom" every time,the only difference MY AK will be more user friendly and easier to use than the way Ivan intended it. And also,if done right with quality material,a modernized AK can look damn sexy too!