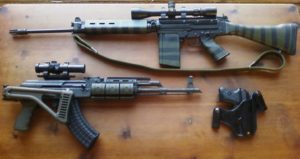 GunModReview.com  will be dedicated to you folks that love to trick out your guns.  Little or small we will review them all.  Whether it be a simple ring upgrade for your Remington 700 or as complex as adding a new trigger assembly to your Ruger 10/22.  We will cover it all.  Do you have an Ak-47 and want to know what sight mount or compliance parts to get?  Planning on building or buying and AR-15?   Hate your Glock and want to know which concealed carry pistol is for you?  We will get to all of it.  We are looking forward to reviewing the newest and best quality products to mod your firearm.  Hope to see you back to the site soon.
---
Rachel Peavy says:
October 24, 2010 at 7:51 am
I am really looking forward to more posts on this site!!! It looks great!
---