I've always been a huge fan of Magpul.  I've operated with several stocks, grips, slings, etc…  I believe their research and design team goes above and beyond on 99% of their projects.  I also think it is very cool that they have a Mil-Spec line and a Commercial line.  That way the "Average Joe" that just wants a Tacti-cool Carbine, but still a reliable one, can still afford to build the AR-15 he wants.  From their BUIS to slings to stocks, their Mil-Spec line is fully capable in all Defense and Protection climates.  Here are 6 of my favorite AR-15 accessories from Magpul.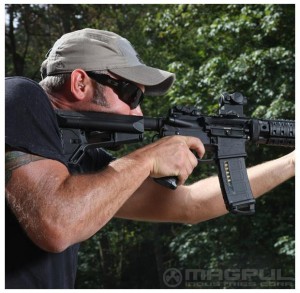 Up first is the Magpul ACS (Adaptable Cabine/Storage) Mil-Spec Adjustable Stock. If you run an AR-15 with Battery Powered Optics and Lights, this is a must have stock upgrade. This stock features an adjustable Length of Pull from 11.75″ to 15.00″ and is held secure and wiggle free with Magpul's patented Friction Lock design. You are able to store a total of 6 CR123 or 4 AA batteries in 2 water-resistant battery storage compartments. There is also another storage compartment at the rear of the stock to hold other back-up accessories. Another bonus from the battery storage is that they change the standard stock curvature and actually create a much tighter and more comfortable cheek weld. The stock features a soft rubber butt pad to provide a very secure shouldered weapon and is compatible with the ASAP Magpul Sling Attachment. They offer a Commercial and Mil-Spec version of this stock. The primary difference is the receiver size and stock tube size you are adapting to. I will provide a link to both so you can choose which one is right for you.
Mil-Spec Receiver version:
MAGPUL INDUSTRIES CORPORATION ACS CARB STK MIL SPEC FDE
Commercial version:
MAGPUL INDUSTRIES CORPORATION ACS CARB STK COMM SPEC BLK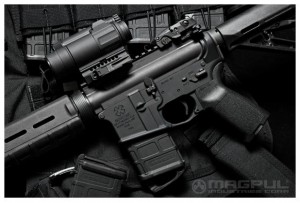 Another easy to install upgrade for your AR-15 is the Magpul Enhanced Trigger Guard. This is the "Mil-Spec" version, in my opinion, since it is made from Aluminum rather than polymer. This allows for easier entry to your trigger, especially when wearing gloves. Rather than having the flat edgy trigger plate, Magpul gave their Enhanced Trigger Guard a more ergonomic and softer angled access to the trigger. Don't be a cheap-skate, pick up the Aluminum version for 10 dollars more. You'll be glad you did. They also include all mounting hardware.
Don't snag when reaching for your trigger, get Magpul it's much bigger *terrible poetic jingle, I know* Magpul Industries Enhanced Trig Grd Alum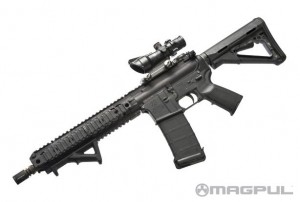 Forget about VFG's (Vertical Fore-grips). They are news of the past since Magpul came out with the AFG2 Angled Foregrip. If you want accuracy, weapon control, and less hand fatigue then check this bad boy out. I believe that the Magpul Angled Foregrip is one of the most ingenious and practical AR-15 accessories built. Laying your hand at 180 degrees doesn't feel right and a fist at 90 degrees causes too much fatigue, but 45 degrees is just right. The angled foregrip will without a doubt increase your accuracy and control of your AR-15. The natural angle of your hand's grip when positioned if you were holding a rifle's for-end is just about 45 degrees. Go on, check it out, reach your hand out there…. See? Spend more time in action and on the range. It is also much less snag prone on your gear and other operational hazards. Magpul's AFG2 will mount to any standard 1913-Picatinny & NATO STANAG 4694 rail systems.
Black: Magpul AFG2 Angled Foregrip – Black
OD Green: Magpul PTS AFG 2 (OD)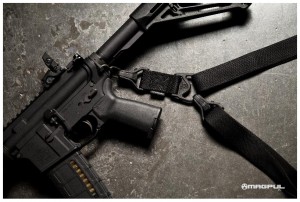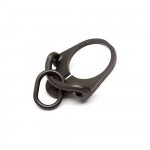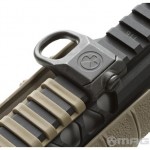 Here are the next three. What good is your rifle without a sling? Well I guess it makes a good walking cane after about mile 3. You never want to lose grip of your primary weapon, or any weapon for that matter. You also don't want some archaic Vietnam-era sling. Magpul has your solution(s). The Magpul MS3 has been my favorite sling for some time now. It has easy to use, but very secure attachments. Reducing or Increasing Tension is easy. And converting from a single point to 2 point sling is simple. I prefer a single point for having the weapon at the ready, entering and exiting vehicles, and when firing from behind cover. But you can easily convert to a 2 point sling when needing to have a more secured weapon while performing other tasks and perhaps longer range engagements. The Magpul MS3 sling is made from superior grade Nylon Webbing, Case Hardened Steel, and Advanced Polymer. In order to make your AR-15 Sling compatible, I recommend picking up the Magpul ASAP (Ambidextrous Sling Attachment Point) for Single Point and the Magpul RSA (Rail Sling Attachment) for 2 point. The ASAP replaces the standard AR-15 End-plate mounting just behind the rear of lower receiver, and the RSA attaches to any 1913 Picatinny rail. Magpul claims the RSA will withstand 300 lbs of pressure! I'm sure it will as long as you don't attach it to a junk
rail.
MS3 Multi-point Sling: Magpul Industries Ms3 Multi Mis Slng Sys Blk
Magpul ASAP Sling Attachment Point: Magpul Ambixdextrous Sling Attachment Point For C.223/
Magpul RSA Rail Sling Attachment: MAGPUL Rail Sling Attachment (RSA)
---