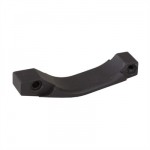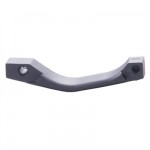 Magpul has always been a company that has provided reliable and inexpensive upgrades and accessories for the AR-15 and M16. This trigger guard has been on the market for a while now, but I am not seeing a lot of people giving it props. It kind of bums me out. This is an extremely easy install and super effective upgrade for the AR-15 or M16. The standard AR-15 or M16 trigger guard is totally flat, this is not very ergonomic. What Magpul did is put a nice little angle to the floor of the trigger guard. What this does is allow you to have faster access to your trigger and makes it less obstructive when wearing gloves. You can snag up the plastic trigger guard for only 8.99 or the Enhanced Trigger guard (aluminum) for 19.99. This is a super inexpensive mod that will make a world of difference when engaging a threat. I would personally opt to spend the extra 10 bucks for the aluminum trigger guard.
Magpul Moe Polymer Trigger Guard – Black
Magpul Enhanced Trigger Guard Fits Most AR10/Sr25/.223 And M16 Styles
---
Andrew M. says:
December 31, 2010 at 12:35 am
I totally agree with you! I have one on my AR and I love it. It definetly makes it easier when you got thicker gloves on.
---