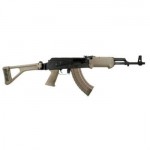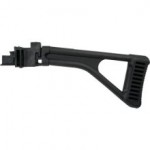 Let me say this right off the bat, I know this isn't the nicest or most expensive AK-47 stock available. When I build a gun, like most folks, I am on a BUDGET! There are a few reason why I chose this stock for my AK-47. It is very light weight, it's inexpensive, it has a slim profile when closed, it's a very simple design, and its tough as nails! I looked at all kinds of stocks before I purchased the Tapco Folding stock. I looked into getting a new trunion and mounting up a fancy Ace side folder. Then I realized the money I would be in it for and decided to try out a Tapco. You can buy them practically anywhere and it is super simple to install. I have dropped my AK-47 and let it bang around on the floorboard of my truck, never felt loose. Let me know what you think. What's your opinion? Check it out for yourself.
Tapco AK Black Folding Stock Md: STK06150B.
---
Wilson says:
November 30, 2010 at 2:11 pm
I have a Tapco stock on an old SKS, It will never be something to fall in love with but it is functional and cheap…… and beats the heavy beat up wood by a mile. It would never be an option for a good long range bolt, but for this…….. it's perfect.
---
GunModReview says:
November 30, 2010 at 2:47 pm
Tapco would be foolish to get into the Long Range Bolt Gun stock game. The Tapco Side Folder for the AK 47 and the SKS are the only two products of theirs I have ever thought anything of. I wanted something quick and cheap when I built my first AK 47. Tapco was definitely the answer. I was very surprised though for the Durability v. Weight factor. Especially, since it was not made from Aircraft grade Aluminum such as ACE. This stock served it's purpose as a nice inexpensive first mod for my AK and intensives. Now if I were going to be carrying one in battle, I'll take the Steel Mil-spec Under-folder. Thanks for the post Wilson. I hope to hear more from you soon!
---