I might catch flack for this one, but here she goes. I personally think it is more important to be able to Co-Witness BUIS that it is to have a reliable zero retention quick release optics mount. Your Back Up Iron Sights, or BUIS, are the most important sighting platform on ANY weapon. You don't have objective lenses to screw up, glass to keep clean, batteries to change, and God knows your not going to knock a good set out of place. Being able to Co-Witness a holographic sight is extremely important. This means, if your batteries go out or the SOB just doesn't want to work, you can always have a sight picture through the holographic sight. If it gets dirty, you just have one lens to clean off, no problem. Here is why I don't relying on a high quality quick release optics mount. First off, the retention of zero is only going to last so long. The detent levers are eventually going to wear. If this happens when in combat you are screwed. Secondly, if your optics fail and you have to take them off, do you stow them or toss them on the ground? Well you know if involved in covert operations, you dont need to be leaving any evidence of who did the snagging and bagging. Now in the defense of a quick release, if you have a lens shatter on an actual scope that is being co-witnessed, this is a good time to have the option. All in all, I personally would rather be able to co-witness. I would love to hear any opinions on this discussion whether you are for or against co-witnessing and why.
Here are some examples of co-witnessing: Notice how you still maintain a sight picture of BUIS through optics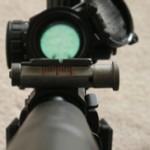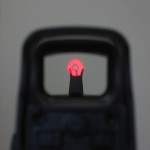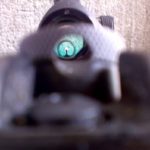 Here are a few great optics mounting accessories that allow for co-witnessing your iron sights:
A.R.M.S., Inc. .5″ Spacer for ARMS 22M68 Mount
Arms Aimpoint Comp Right Throw Lever Mount
Aimpoint CompM3 – 4MOA w/ A.R.M.S. 22M68 Mount & Co-Witness Cantilever Spacer – MSP PACKAGE DEAL
Vortex Optics Tactical 30mm Riflescope Ring, Extra-High, Absolute Co-Witness for AR15
Vortex Optics 1 x 30mm StrikeFire Red Dot Flat Top AR Rifle Scope, Matte Black Finish with 4 MOA Illuminated Red Dot Reticle
---
Andrew M. says:
December 9, 2010 at 11:12 am
Unless, you run a magnified optic like my Trijicon Accupoint. haha. Keep it up jim. It is nice to get some insight from other shooters. You made some valid points.
---
GunModReview says:
December 9, 2010 at 10:37 pm
I'm trying my best Andrew. Like I said, I am not out to play gun God. I'm just out to give my humble opinion. I am sure there are lots of other guys out there with more experience than me, but I just try to keep it simple and common sense. That is what really matters when you are f.u.b.a.r and get ready BOHICA!
---