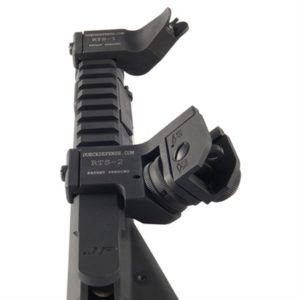 Okay gang, after seeing these on Brownell's a while back, I had to post on them. How fitting it was for me to find these after yesterday's post. I have not tested these yet, but man they look pretty neat. Just from looking at them and reading about them, I will give you my common sense Pros and Cons. As far as the stats go They sit at the same bore height and sight picture as your MILSPEC A2 sights. The mounting arm only sits .20″ above rail height. This keeps them from getting in the way of other optic's line of sight. They make them for left and right handed shooters. The rear aperture has the same windage and elevation adjustments in 1/2 moa clicks. The mounting offset is 45 degrees from top of weapon.
So here is why this is relevant with yesterday's post of "Co-Witness or not to Co-Witness", can we throw flip up BUIS and co-witnessing out the window now? Not so fast, Let me tell you the problems I see as an average shooter. The AR-15/M-4 platform is starting to turn into a set of legos. The more crap you mount on your weapon, the less effective it starts to become. Of course you have to have Iron Sights 100% must! I see these new sights being effective 50 meters or closer. I believe these will still be "iffy" on taking shots with iron sights out past 100 meters, unless laying down. If you plan on using these as your BUIS for every situation, I would practice everyday before I had to operate them. With the cycling of your M4 you have a recoil you are used to, with the gun canted 45 degrees it changes your cheek weld, your shoulder placement, and the way you adjust for the weapon's recoil. Standing up or prone, I see this being a bigger adjustment that one is led to believe. I also see this creating other snag points to be thought about with your sling and gear.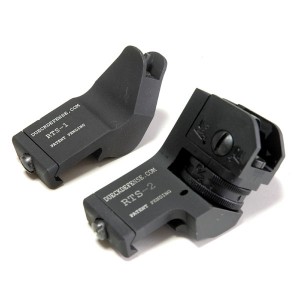 Okay, enough with the Cons. Here are some of the neat things this sight platform creates. Co-witnessing, you don't have to worry about this anymore. Primary optic breaks or is no longer useful due to closer range, no problem. You don't have to flip up any sights, all you do is cant the weapon 45 degrees and proceed. This can add 3 or 4 extra shots down range at the bad guys, major plus! Also, if you have ever co-witnessed sights through an optic, you know at first it's a tad hazy acquiring your sight picture again. Also, when co-witnessing you have a smaller field of view. When you are in a combat situation and need to acquire your next target quickly, the last thing you want to do is take your eye of your front sight.
Overall I think this could be a great new product for AR-15′s and M4′s. Fitted with the correct task and an operator willing to practice, it should get the job done. If you have any thoughts, ideas, or have actually operated using this style sight, feel free to post your review. Have a great day, Jim
As soon as Brownell's has the product link up I will get it added. For now click this link and search Dueck Defense in their site search.
Click here for AR-15/M16 parts & accessories from Brownells.com
---
Andrew M. says:
December 12, 2010 at 11:40 pm
I think you hit the nail on the head with this review. This is especially interesting for me. When I was in the Marines, my rifle had an ACOG. This really sucked for CQB, so I started to "point" shoot. Overtime, I taught myself to be pretty good at instinctive shooting at 25 yards and less. I could see these irons working on a rifle with a magnified optic very well.
It seems the more I shoot, the more I go back to the basics. If I had to choose one type of sights and one rifle. I would carry an m-16A2 with no bells and whistles. I love my irons! You never have to replace your batteries or worry about loosing your BZO. That is unless you bend your front tip post. I think that these transition sights might be worth looking at. Especially for those guys with magnified optics. Great review Jim!!!
---
GunModReview says:
December 13, 2010 at 2:06 pm
Thanks for another great comment Andrew. I definitely agree that these would be better suited with an ACOG than say an EOTech Holographic sight. If running a holographic sight I would more than likely want to keep with some good Flip up sights. Thanks for the props on the review and hope to see you back to the site soon. Have a good one, Jim
---