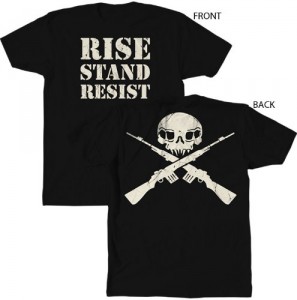 Hey fellow Gun Nuts!  I searched high and low for some of my favorite Gun T-Shirts the we has to offer!  I found them!  Be sure to check out the new "Gun Apparel" page and rep your weapon and your Second Amendment beliefs!  By far my favorite shirt is the entire Second Amendment typed out into the shape of a pistol.  It's a great way to Represent the Second Amendment proudly.  I also love the "I <3 my AK-47″ T-Shirt.  Anyhow, I just wanted to let everyone know about the new "Gun Apparel" page.  Have a great day!  God Bless the USA!
<— Click the T-Shirt picture to go to the page.
---
Andrew M. says:
December 5, 2010 at 11:16 am
"Rock out with your Glock out" I love it!
---